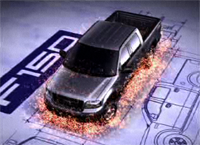 FORD Commercial, !mpossible Pictures
For over 30 years, GWH&A has been providing solutions for the imaging and multi-media marketplace. Whether it's creating professional imaging systems, custom integration, film and video services, or product development, GWH&A has consistently been at the forefront of emerging technologies. Wyndham Hannaway founded the company in 1975 as a media lab, specializing in providing imaging services to myriad companies, government and universities.

Whether you're looking for professional video products, HDTV, media product development, or specialty film and video services, GWH&A is your partner in success.


"GW Hannaway has been my vendor of choice for over five years, having provided our company with superior technology, advice and support in our efforts to service our high-end television clients. They are without question the preeminent video, graphics and systems experts in the region. I enthusiastically recommend them."
Joel Pilger, President/Senior Discreet Artist,
!mpossible Pictures